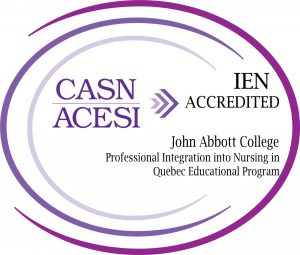 For any questions or information, please contact us directly at nursing@johnabbott.qc.ca
Important Dates
Cohort
JANUARY 2023 – FULL
NEXT AVAILABLE COHORT: FALL 2023
Next Virtual Information Session
Date to be confirmed
Complete the online form if you wish to be notified once the next information session date is announced.
Note
Required for the information session: access to a device that will allow you to participate in a video.
Click here to be notified once date is announced
Program Overview
Full-time Program - Attestation d'Études Collégiales (AEC) CWA.OK
This program is designed to allow Internationally-educated nurses who wish to become licensed in Québec to complete the Consolidation of Nursing Skills or Professional Integration stage required by the "Ordre des infirmières et infirmiers du Québec" (OIIQ). This program also prepares the students for the Professional Licensing Examination set by the OIIQ that will allow them to practice nursing in Québec in the capacity of Registered Nurses (RN).   In addition, the program offers an introduction to Québec's culture, nursing and health care practices in a context that can be significantly different from their country of origin.
This is a FULL-TIME TUITION-FREE program funded by the Ministère de l'Éducation de l'Enseignement supérieur (MEES) providing you have established your Canadian & Québec residency status.
Job Outlook
The health care sector is actively searching for qualified candidates; job prospects are excellent. Graduates of the Nursing program work in many health care settings, such as acute or chronic care hospitals, rehabilitation centres, clinics and more…
Graduates of the program are expected to have the knowledge and abilities to practice nursing in a rapidly changing health care system, in a manner which is professional, caring, clinically competent and ethically and legally grounded. They will function as collaborative members of the health care team, in accordance with the Québec Nurses' Act. All graduates must pass the Order of Nurses of Québec (OIIQ) licensing exam and meet the Office québécois de la langue française (OQLF) requirements to practice in Québec.
All graduates must pass the Order of Nurses of Québec (OIIQ) licensing exam and meet the Office québécois de la langue française (OQLF) requirements to practice in Québec.
Courses & Schedule
Duration of program
23-25 weeks (615 hours)
Classes take place Monday through Friday mostly during the day: In-Person or Online
Labs: In-Person
Stage
36 days of stage
Students will participate in stages in clinical settings throughout the Montreal region (days, evenings, and possible weekends)
Credit Courses
Consists of 4 credit courses
| Course Number | Course Title | Hours |
| --- | --- | --- |
| 180-90P-AB | Transition to Nursing in Québec | 90 |
| 180-91P-AB | Fundamentals of Nursing | 75 |
| 180-92P-AB | Health & Illness I | 210 |
| 180-93P-AB | Health & Illness II | 240 |
| | Total | 615 |
Transition to Nursing in Québec
Additional training "Formation Complémentaire"
To be offered as needed. This can also be completed with another CEGEP from the Consortium.
Soins infirmiers en santé mentale/ Mental Health Adult | 120 heures
Soins infirmiers auprès d'adultes en perte d'autonomie/ Dependent adults and Elderly persons | 105 heures
Soins infirmiers auprès d'enfants et adolescents / Pediatric Nursing| 90 heures
Soins infirmiers en périnatalité / Perinaltal Nursing | 75 heures
Admission Requirements
Admission Requirements
Hold a nursing diploma from your native country
Have a Canadian Citizenship or Permanent Resident status
Hold a valid decision letter rendered by the "Ordre des infirmières et infirmiers du Québec" (OIIQ) Equilavence Committee
Hold a comparative evaluation of studies done outside of Québec issued by "le ministère de l'immigration et des Communautés culturelles" (MICC)
First 2 doses of COVID 19 vaccine. As per the government decree, it is mandatory that Nursing students be double vaccinated for COVID 19. The 3rd COVID 19 booster is highly recommended as it will provide increased protection against COVID and may become mandatory as per hospital policy
Must have completed the Level 8 Québec Francisation Program (Level of French proficiency will be tested)
Admission Interview to evaluate English language proficiency
Required: Good working knowledge of computer use, Word, PowerPoint, Web search, E-mail, etc
Additional Requirements for the Program (ONCE ADMITTED)
(These documents are NOT required for the application – they will only be needed if you are accepted to the program)
The Québec Ministry of Social Affairs has stated that all students registered in Career Programs requiring field work in hospitals must be properly immunized for certain communicable diseases.  Student must show proof of proper immunization.
Immunization Attestation Form
– Contact your CLSC immediately to make an appointment to complete your immunization record, as it is mandatory for the clinical part of the program and the process may take more than one visit before being completed.
Registration with the provincial licensing organization, the Ordre des infirmières et infirmiers du Québec (OIIQ).
BLS CPR and First Aid certification for Health Care Providers (HCP). The Continuing Education Nursing Department will offer this course prior to the start of the program.
Fees
| Title | Cost |
| --- | --- |
| Application (non-refundable) | $30 |
| Registration (per semester – based on full-time/QC residency status) | $117 |
| Books & Materials (an approximate cost and may be subject to change) Candidates admitted to this program will be able to apply for loans and bursaries but may also be able to have their training financed by Services Québec (conditions apply, consult your local employment center directly). | $1100 |
| Ordre des infirmières et infirmiers du Québec (OIIQ) Registration | $224.20 |
Application Procedure - NEW
Application Procedure - NEW
If you are interested in registering for the Attestation of Collegial Studies "Integration into the Québec Nursing Profession prescribed by the OIIQ (CWA.OK), you must read the information below.
Registration for this AEC is only for candidates who have not started the program in another Cégep.
The Cégeps Édouard-Montpetit, John-Abbott, Limoilou, Lionel-Groulx, Sherbrooke and Vieux-Montréal have formed a consortium to ensure the joint management of admission applications through a common form.
Consequently, only one form is required for your interest in the program offered by one of these six CEGEPs.
To complete this form, we ask that you have in your possession the decision letter of the committee for "admission par equivalence" issued by the OIIQ. You must indicate the date of the letter on this form at question 10. Without this letter, you will not be eligible for the program.
The information requested in the form will allow you to begin the application process for the program. You will have to indicate the educational institution of your choice on the "Interest Form" from the consortium.
Member of the consortium
| | | |
| --- | --- | --- |
| CEGEP | Language | Location |
| Edouard-Montpetit | French | St-Hubert |
| John Abbott | English | Ste-Anne-De-Bellevue |
| Lionel-Groulx | French | Ste-Thérèse |
| Limoilou | French | Québec |
| Sherbrooke | French | Sherbrooke |
| Vieux-Montréal | French | Montréal |
You will be contacted at each step to properly assess your file before confirming your application to one of the CEGEPs.
Step 1
Attend Information Session
Register online through our website – refer to "Important Dates" tab
Step 2
Complete the interest form below
Take and pass the French Test specifically required for this program (Level 8 is necessary to pass). In the event you fail the test, you can retake it in 6 months.
Wait for one of the CEGEPs to contact you to begin your application process.
If selected to do the program at John Abbott College, you will be contacted to attend an English Proficiency Interview with the Program Coordinator.
After completing the Interview, a link to register through SRAM will be sent to you by email.
You will have to prepare and upload various documents necessary for your admission directly through SRAM.
When applying: Use this checklist to ensure that you have included all the necessary documents – please click here.
When all these steps are completed, you will receive the letter of admission from the CEGEP of your choice.
Math for Medications
DOSAGE CALCULATIONS:
Basic Math Calculations, Multiplication, Division, Decimals
Calculators and electronic devices are NOT permitted
Recommended sites:
 GOOGLE NURSING DOSAGE CALCULATIONS
FRENCH FOR NURSES
Volunteer
The Hospital Elder Life Program (H.E.L.P.) Volunteer Program of the Jewish General Hospital
The Jewish General Hospital is inviting candidates to be H.E.L.P. volunteers. This opportunity allows volunteers to be directly involved with the patient's care plan and to work in collaboration with the multidisciplinary team.
Duration: 104 hours in 6 months – 4 HOURS/ WEEK
Where: Jewish General Hospital
Required Qualities:
Reliability and capacity of attention to seniors;
Good judgement and maturity;
Discretion, empathy and diplomacy;
Ability to work independently;
Capacity to work within a hospital team (e.g. nurses, Elder life specialist, etc.)
Bilingual (English/French) required;
Knowledge of a third language, an asset.
Other requirements: 
Pass the selection interview ;
Two references from teachers;
Pass the criminal background check process ;
Perform the theoretical and practical training provided by the hospital.