AEC Convocation
Who's invited to the AEC Convocation?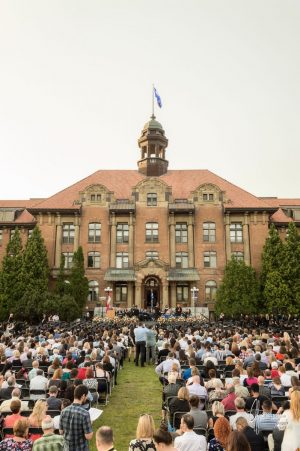 Graduates of the Centre for Continuing Education of John Abbott College who have completed their studies in Summer 2022, Fall 2022 or Winter 2023 are invited to attend their graduation ceremony at John Abbott College on Thursday, September 28, 2023 at 6:30 p.m.
Below is the schedule of important dates for the upcoming ceremony.
Important Dates
| | | |
| --- | --- | --- |
| | | |
| July 25 until August 17, 4:30 p.m. | Confirmation of attendance/Payment deadline | Online – webpage |
| September 28 | CONVOCATION | |
| | Convocation cap, gown & Guest ticket pick-up | Agora from 4 p.m. to 5:30 p.m. |
| | Line up for procession at 6 p.m. | Agora entrance |
| | Ceremony begins at 6:30 p.m. | Gym 1 and 2 |
| | Reception following the ceremony | Agora |
Convocation Ceremony
The Convocation ceremony will be held indoors in the Casgrain building gymnasium with a live broadcast on the John Abbott College YouTube channel for those that are unable to be in attendance.  
Registration / Payment
2023 Convocation – Attending Ceremony click here
Faculty and Staff
Faculty members will be asked to assemble in the Agora hallway, no later than 6 p.m. At the directed time, the academic party will lead the processional into the Convocation area. Dais guests will be directed to take their places on stage. All other attending faculty and staff will be directed to the faculty and staff seating area. 
Students
Students will be required to arrive on campus no later than 5:30 p.m. in the Agora and will be given further instructions by a member of the Convocation team and/or the academic marshals. 
All guests must be seated before the procession begins at 6:20 p.m. sharp, with the ceremony starting at 6:30 p.m. 
Following the ceremony, graduates and their guests are invited to a reception. Convocation generally lasts about 3 hours, including the reception. 
Please note that by attending this event, you understand that photos will be taken, and that the College may use them in any future publications. 
Convocation Questions / Answers
Who can attend Convocation?
How do I inform the College that I plan to attend?
Where is the ceremony held?
Do I need a ticket for the ceremony?
How many guests can I bring?
Do my guests need tickets?
Must I remain for the entire ceremony?
How long is the ceremony?
May we take photographs during the ceremony?
Do I have to wear an academic gown?
How do I know where to go on the evening of Convocation?
How will I know when it is my turn to walk on stage?
Do I need to return the cap and gown?
Is the ceremonial letter received at convocation my official AEC diploma?
How do I receive my official AEC diploma?
Convocation Day Information
Convocation Day Information